Gimbal Operator + Kit for hire:
Are you looking for state of the art gimbal and gimbal operator?
Our new Freefly Movi Pro gimbal and operators are available for your next video project. Our rates are competitive, our kit is the best around, and our experience is unrivalled, so don't wait too long, get in touch. If you also need an ARRI Mini and Easy Rig? We're happy to help you find the best solution for your project. We have in-house kit & operators, as well as a roster of freelance operators we use regularly with our top notch kit and are happy to find the best match for your project.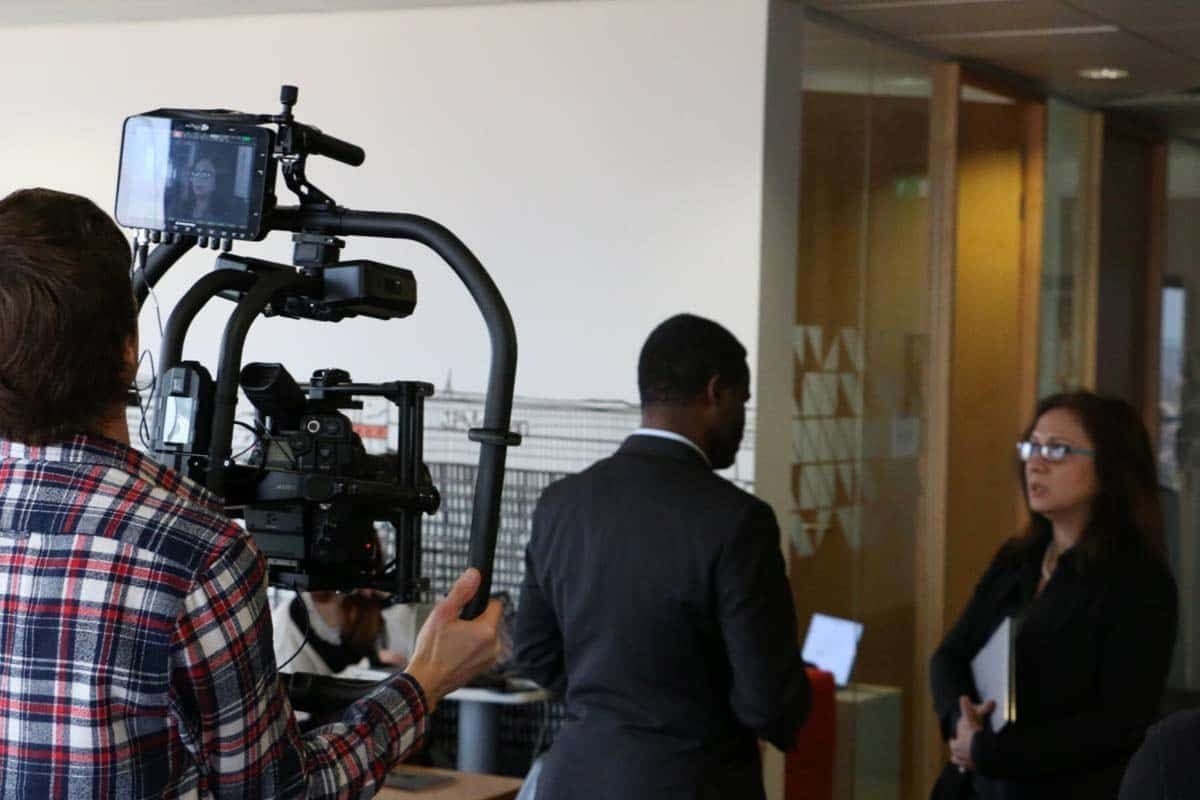 Click here to Hire your Movi Pro Gimbal  
Our Movi Pro gimbal hire is an amazing piece of kit, allowing for the smoothest moves and footage - compared to other gimbals in the market it seems to have a much more organic look and feel - the moves look natural and less mechanic or robotic... and this is a very important factor to keep in mind when making a professional video. It is great for those walking shots, or running action shots where that extra stabilising is needed. We've used it on corporate films where two people are walking down a corridor; or on online commercials going from interior to exterior of a house through windows; or filming cars from a truck... it really brings any scene to life.
What is included in our gimbal hire package:
1 x Movi Pro operator (or assistant, if you have your own operator)
1 x Movi Pro Gimbal with travel hard case on wheels
1 x Mimic
8 x batteries (enough for a full day filming without needing to charge)
2 x chargers
1 x audio xlr adapter mounted on ring
1 x Easy Rig Vario 5 with flow cine + extension for extra stability + carrier bag
1 x Odyssey 7Q+ monitor for external RAW recording
2 x SSD cards 2TB
1 x small HD bright 702 client monitor + bracket + batteries
1 x Paralinx wireless video transmitter for client monitor
1 x on board follow focus controller (for one man operation) PDMovie Remote Air
1 x remote DJI follow focus system for a follow focus operator
1 x mounts and various accessories (including all cables and cable management)
1 x playstation joystick for remote control motion
1 x transport vehicle
1 x international insurance cover
Optionals: Call to discuss cameras & lenses you may require
What is a Gimbal?
The Movi Pro is the most advanced camera movement system ever created.
A Gimbal holds anything from a small camera like a GoPro, to a DSLR, and most commonly on our shoots, an ARRI Alexa Mini or Red Epic cameras. The Movi is really a cinematic gem, it helps bring that amazing filmic look to any project, adding production value and making our client and customers really happy.
Handheld camera work is often subject to shake, wobble, and vibrations due to the camera operator walking. Gimbals (much like a steady-cam) hold the camera steady, eliminating the shakiness and allowing the camera to stay horizontal or at a set position. The Gimbal is an essential piece of kit for video production companies who want to make professional quality films. That's what we like to offer: Quality, so get in touch to find out more what we can do on your next project.
Give us a call or send us an email to check availability and our hire rates:
  Click here to Hire your Movi Pro Gimbal operator + Kit  
Below is a video showing the Movi Pro in action:
Need a Gimbal with operator? Get in touch Now:
Are you looking to hire a gimbal solution for your next video production? Are you looking for an experienced crew, and the best kit for your buck? Click the link below to hire your next Movi Pro Gimbal operator. or visit tailoredmedia.co.uk for more information about our video production company and what else we can provide. We have instant access to any cameras you may require, we offer editing, and other services (makeup, follow focus, lighting etc). Basically we're a one stop shop for anyone wanting to make a great video.
We are based in London, but travel anywhere you like (we've recently taken our Movi to Spain, Hungary, Germany, Australia... so there's no limit). We can either drive with our production vehicle, or fly with our flight case and easy setup for international work - we very much look forward to using it on your next promotional video, corporate, commercial, documentary or music video production - it is such a flexible tool that can be used for any production.
Oh yes, it is also insured for international projects, so you don't need to worry about anything, we do it for you.
  Click here to Hire your Movi Pro Gimbal  
Or visit our Video Production Company in London for more services